---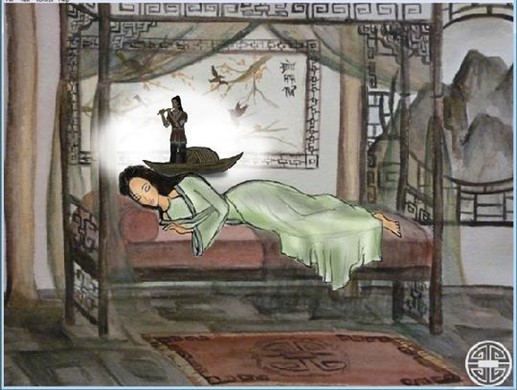 It was written in history that Van Lang was reigned by 18 Kings Hung. The capital of Van Lang was Phong Chau, Bach Hac district, Vinh Yen province.
Under the Hong Bang Dynasty (2879- 258 B.C) Lac Hau was a civilian official; Lac Tuong a General. Quan Lang was the King's son, and My Nuong the King's daughter. My Nuong in this story wasn't a name but it meant 'Princess'.
The Kings of the Hong Bang Dynasty were, in reality, the tribal leaders. In the past centuries the Vietnamese avoided to call famous women by their names.
****
Truong Chi was a poor fisherman living in a small fishing hamlet along the banks of a river. Every evening, after his daily activities, he sang melancholic songs.
My Nuong, a beautiful lady from the most powerful family, loved songs sung by Truong Chi and his deeply melancholic voice as well. Sentimental and romantic My Nuong imagined it was the voice from a handsome man with his attractively melancholic and romantic voice in her imaginary dream.
A fisherman, Truong Chi moved from a river to another to catch fish to earn his living. My Nuong was sent to a vague melancholy for not hearing Truong Chi singing. She fell sick. Her sickness got more and more serious. No physician knew about her disease and its origin. My Nuong's father asked her servants, who told him that she loved melancholic songs sung by a certain fisherman from the fishing hamlet. Her father knew that My Nuong was in lovesickness. He ordered his men to look for the attractive singer in the fishing hamlet and invited him to visit his palace.
Truong Chi's voice was attractive but his appearance was ugly. He was in rag.
Facing My Nuong's beauty Truong Chi loved her at first sight.
As for My Nuong, she was completely disappointed. Her lovesickness seemed to be cured by Truong Chi's ugliness and poverty. She expelled Truong Chi from the palace.
Truong Chi was ashamed and humiliated. He suffered a lot. In his turn, he was in incurable lovesickness. He didn't go fishing. He didn't sing anymore. No food. No drink. No medicine. He was exhausted and died.
Years later people dug his grave in order to cremate his dead body. What a surprise! His dead body was totally decomposed. Only his heart was crystalized to turn into gem. My Nuong's father bought it and asked an artist to make a teapot from it.
One day, My Nuong poured tea into the gemstone teapot. Truong Chi's picture appeared in the teapot with the sound of melancholic songs. Moved by repentance My Nuong cried. Her tears fell into the teapot. Truong Chi's picture disappeared. The teapot was broken.
Truong Chi and My Nuong's heartbroken love story gave inspiration to:
Van Cao to compose Truong Chi
Pham Duy to compose Khoi Tinh Truong Chi
Hung Lan to compose Han Truong Chi
David Lan Pham, F.A.B.I.
Direct link: https://caidinh.com/Archiefpagina/Cultuurmaatschappij/truongchiandmynuong.html
---
Cái Đình - 2022